Summer is synonyms with sun, bikinis, fresh water, soft sand and loads of fun. The good news? You can enjoy it all in Ontario! Pack your towel and sunscreen and keep reading to choose your next beach stop.
You don't have to drive south or board a plane. Here's our list of the 15 most beautiful beaches in Ontario. Pick the one you like and plan the best summer road trip ever!
Cobourg Beach
Cobourg beach is the perfect place to lounge away the day. This beach is located along Lake Ontario, halfway between Kingston and Toronto.
If the main beach, also called Victoria Park, is too crowded, you can always visit the west beach near the marina. This beach isn't as popular but is far more peaceful.
North Beach Provincial Park
Soft white sand and clear blue water, what else could you ask for? Make sure you reserve your spot before heading to North Beach Provincial Park since you need a reservation to access the site.
If North Beach is full, you can try your luck at the nearby Sandbanks beach.
Sandbanks Dunes
Whether you're planning a day trip or an overnight getaway, Sandbanks is a great place to visit. It has beautiful soft sand, small trees and knee-deep warm water. This beach is rarely crowded due to mandatory reservations. There's also a campground, making it the perfect place for a relaxing weekend.
Agawa Bay – Lake Superior Provincial Park
Further west, in the direction of Thunder Bay and along the shores of Lake Superior, you'll find this hidden gem: Agawa Bay. Pebble Beach is a superb site covered with a mix of sand and multicoloured round polished stones. You can take in phenomenal views of trees, waves and mountains.
Wasaga Beach
You'll feel like you've travelled to Miami when visiting Wasaga Beach. This gorgeous beach is situated on the shores of Georgian Bay. Measuring an impressive 14 kilometres long, it's the largest fresh water beach in the world.
You'll find many other outstanding beaches, parks, restaurants and fun activities along the coast. Make sure to visit the region's website to discover the best things to do in the area.
Indian Head Cove
Indian Head Cove rivals some of the best beaches in Croatia. This magnificent beach is surrounded by clear blue waters, white cliffs and tall trees. Make this your next summer destination.
Sauble Beach
Along the shores of Lake Huron, not far from Indian Head Cove, lies Sauble Beach. This 11-kilometre stretch of sand is Canada's second-largest fresh water beach. It's the perfect place to enjoy the sun, waves and good family fun!
Pancake Bay Provincial Park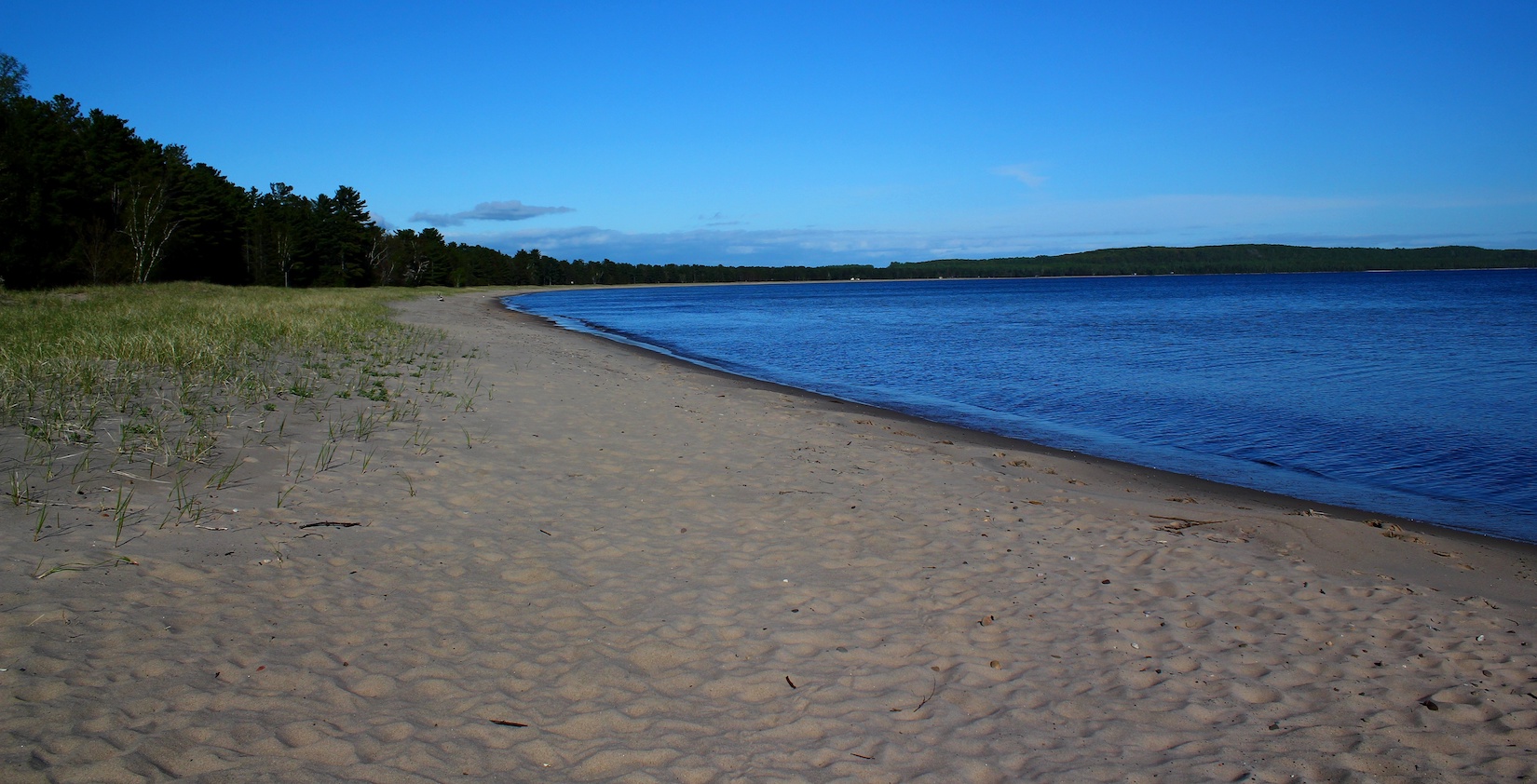 This incredibly stunning park is a nature lover's dream. You can enjoy hiking, camping, swimming, fishing, canoeing and more. The charming three-kilometre beach is surrounded by peaceful nature. Pancake Bay Provincial Park is perfect for deep relaxation since it's very remote and less crowded than most beaches.
Grand Bend Beach
Are you on the hunt for soft sand and blue waters? You got it!
The scenery at Grand Bend Beach is breathtaking. The sand is soft, and the water is surprisingly warm. You'll feel like you're seaside as you look out at the clear waters that stretch as far as the eye can see.
Tobermory
If you want to try an adrenaline-pumping adventure, reserve a diving session at Fathom Five National Marine Park in Tobermory. It's one of the best places in the world for scuba diving, with more than 20 shipwrecks, underwater cliffs and caves. Keep in mind this experience is for certified divers only.
There's also a beach in Tobermory. However, Fathom Five National Marine Park Beach isn't exactly a sandy and relaxing place. The beach is covered in large rocks, but the outstanding scenery is well worth the detour. If you prefer a sandy beach, head over to Singing Sands beach. It has on-site restrooms and warm shallow water.
Pinery Provincial Park Beach
This is another seaside-like view offering some of the most breathtaking sunsets in Canada. Stay for the day so you don't miss out on the cotton candy skies.
Port Stanley Beach
Port Stanley Beach is located just 40 minutes south of London, Ontario. The clean, fresh water is certified annually for its quality. You can swim, tan, play volleyball or make a sandcastle along the expansive sandy shore.
Scarborough Bluffs
This incredible bay on Ontario Lake is a rare sight so close to Toronto. The impressive white bluffs are 14 kilometres long, and the beach is one of the most beautiful in Canada. If you want to learn more about the history of this fascinating place and the science behind it, visit the website.
Sibbald Point Provincial Park Beach
This is another fantastic place you'll want to stay and explore for more than one day. Sibbald Point is a provincial park, so the beach isn't the only attraction. Between swimming, kayaking, fishing, hiking, biking and camping, there's plenty to see and do.
Port Dover Beach
Close to Toronto and Niagara Falls, Port Dover is a lovely little town with a small port famous for its restaurants and many tourist activities. Plus, you can enjoy a day on the nearby sandy beach.
Find Beaches Close to a Pioneer Station!
Whether you need gas or forgot to bring snacks, Pioneer has you covered with many stations all over Ontario. Don't forget to look out for them while planning your trip! Enjoy your vacation.
For more summer activity ideas, read this article: The Best Family Activities to Do in Ontario This Summer