The cold temperatures and short days are a stark reminder that winter is upon us! Here are eight tips to help you cruise through the cold weather and stay safe on the road.
1. Keep Your Hands Warm
There's nothing worse than gripping an ice-cold steering wheel with bare hands! That's why you should always bring a pair of warm mittens or gloves with you when you get in the car.
However, some glove materials are better than others. For example, look for a pair with anti-slip strips on the palms and under the fingers to give you a good grip on the steering wheel.
Additionally, make sure you get gloves that are warm enough to handle frigid temperatures. However, don't get ones that are too thick. You don't compromise your dexterity!
If you're forgetful and leave your mittens everywhere, keep an extra pair in your glove compartment!
2. Buy a Practical Coat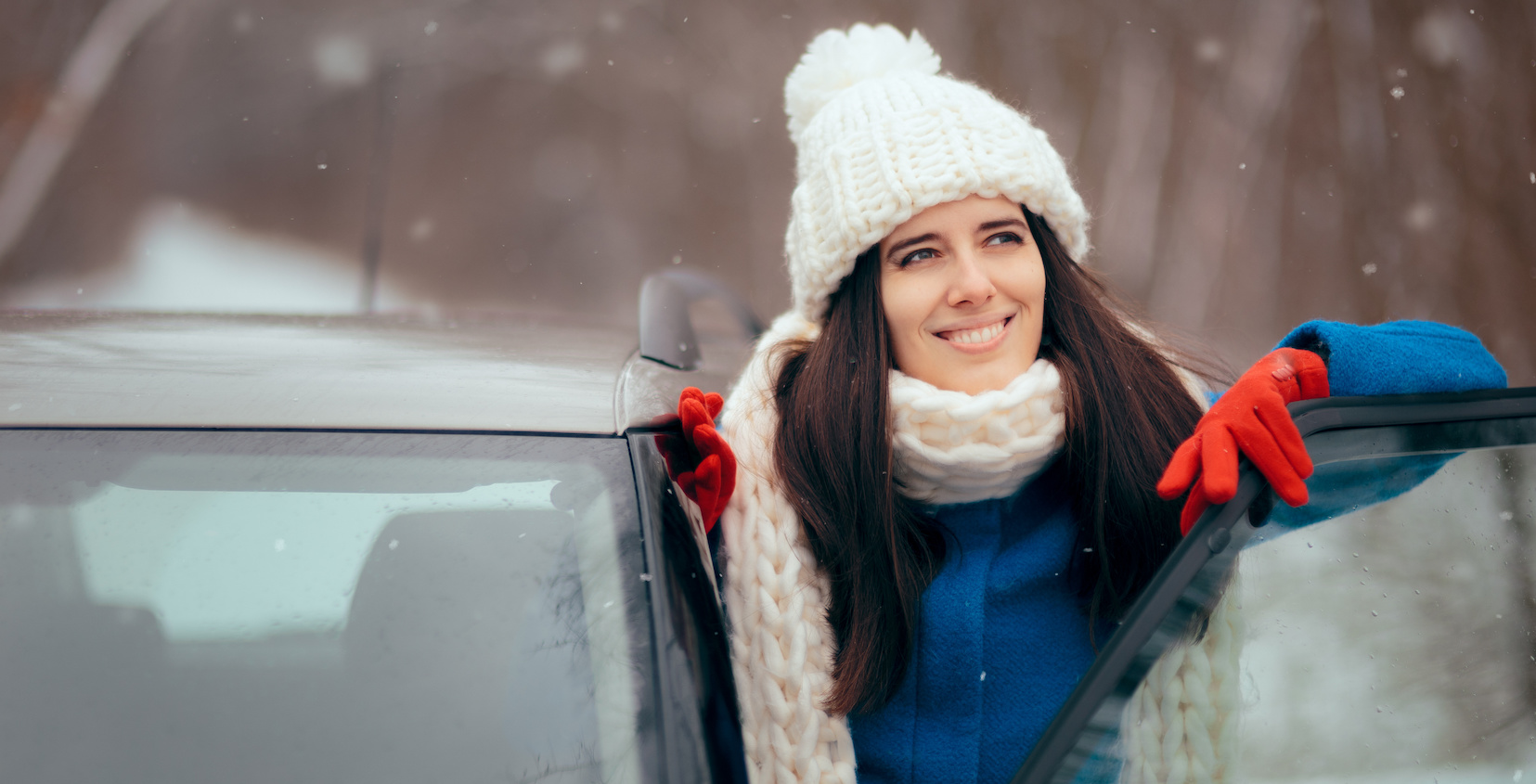 Finding the right winter coat takes time, money and research! It can be difficult to decide when there are so many different models to choose from.
Answering these three questions will give you a great starting point:
What's the average winter temperature in your city or region?
Do you get hot or cold easily?
Do you go outside a lot, or do you just wear your coat to get to your car?
Once you've answered these questions, look for a coat that meets the following criteria:
Warm material. The fabric used on the outside of your coat can determine how well it will keep you warm. Therefore, we recommend fabrics like down, nylon, flannel, cotton and wool.
If you're someone who goes from extremely hot to extremely cold in the blink of an eye, we recommend wearing layers. This way you can take a layer off if you start to sweat or put one back on if you get chilly.
Will your coat keep you warm when temperatures dip below zero? To stay toasty warm all winter, we recommend investing in a down coat or a jacket made of synthetic material.
A good coat will last several years and make your car rides more comfortable!
3. Get the Right Snow and Ice Removal Tools
One of the peskiest winter driving tasks is clearing the ice and snow off your car. However, it must be done to ensure you stay safe on the road.
Take your time when shopping around for a snow brush and ice scraper and choose one that can withstand hard ice and sticky snow. You can often find practical 2-in-1 models at an affordable price.
To ensure you're ready for the first snowfall, always keep the following items in your car:
A small shovel
Windshield washer fluid
A spray bottle of lock de-icer
Of course, make sure you always have your snow brush and ice scraper on hand!
4. Put Together an Emergency Winter Kit
You should always have an emergency kit in your car. However, if you don't already have one, there's no reason why you can't start by making one that's suitable for winter.
Many of the following items can be found in an emergency kit that's suitable for any season:
A flashlight and rechargeable batteries
Waterproof matches
A whistle and reflective vest
A glow-in-the-dark warning triangle
Dehydrated food and bottled water
A complete first aid kit
In fact, the only difference is that in winter, you should also pack:
A warm fleece or an aluminum blanket
A thick pair of socks
A warm toque
5. Purchase Traction Mats
It's a well-known fact that winter brings with it snow- and ice-covered roads that can often feel impassable… unless you have traction mats!
Keep them with your other snow removal accessories or emergency kit to ensure you always have them handy when you need them.
You can also use sand or cat litter to help get you out of a sticky situation. However, it's best to stay away from clumping cat litter.
6. Pick up Reliable Jumper Cables
Purchasing a good pair of jumper cables is never a bad idea. In fact, they can be used in any season. However, they can be especially helpful when the winter cold drains your battery.
If you already have jumper cables, ensure they're in good condition and will survive the cold months ahead.
7. Invest in Roadside Assistance
It's always a good idea to be prepared when you hit the road, even if that means ensuring you can count on a third party. We recommend signing up for a roadside assistance service that can help you:
Unlock your doors
Fix mechanical issues
Boost your car
Tow your car
Deliver fuel
Make sure you have the phone number of the roadside assistance service on hand—whether it's saved on your cellphone, stuck on your windshield or on a small business card in your glove compartment.
8. Use Weather Apps
No one can escape Mother Nature's mood swings! Fortunately, you can now rely on 21st-century technology to ensure you never get left out in the cold.
Consider downloading the following apps to keep up with the latest weather and road conditions:
The Weather Network
WeatherCAN (Environment Canada)
Waze
Google Maps
Ontario 511
Tip: always check one of these apps before hitting the road.
By following these tips, you'll be able to safely cruise through winter!